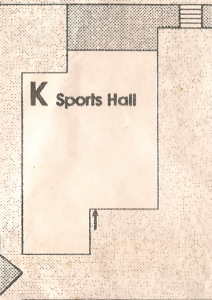 The Sports Hall was the largest block in the school located off Gordon Avenue. A separate changing room area was provided, but the main body of the hall opened into an air craft hangar like body. Originally this green carpeted floor space was cushioned by blue bench mats stacked haphazardly around the circumference, and these served as impromptu seating areas for spectators at events such as when a staff vs pupils football match took place. One sat here at one's own risk however due to the balls flying anywhere and bouncing off the wooden panelled interior and windows.
I remember playing all types of sports in here, as equipment could turn the place into almost anything. Indoor cricket, basketball, badminton, five a side- even judo at one point in time in the upper school. A trampoline also occasionally was unfolded , with heavy matting being applied to the floor space around.
The hall was later upgraded , the floor ripped out and replaced with a more springy wooden texture , marked out for all the aforementioned sports. A partition netting curtain could segregate different activities and be pulled across.
Menzies had many talented sports people and  lessons here were always fun and enjoyable. You could dream about reaching for the stars.