B Block, one of the two four storey tower blocks was the home of maths, geography, the school library and also the dining room on the first floor. It was upgraded around 1988/9 to accommodate a fixed school meal area between the two blocks; previously classrooms in C block had been used but were totally insufficient for this and teaching purposes. Approaching dinner times, the smell of cooking chips from here was unmistakable.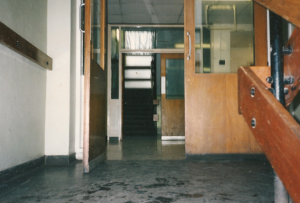 Two stairways served the block, long metal poles fleshed out by wooden bannisters were used for swinging around- what fun on descending those echelons- I don't think there was a single lad who didn't try it at least once.
The second floor housed the school library. 
At this level, a choice of two bridges met the visitor's path. One leading out across to C block, the other across another bridge into Marsh Lane.
Upstairs maths and geography classrooms. These subjects bored me stiff if I'm being honest so I don't really have much to say there. Daydreaming however of being somewhere else always got through those tedious double periods.