Menzies was lucky enough to have its own running track, complete with two sandpits. The track surface had probably seen better days, but each July it would be marked out for the annual sports day where years 1-4 would compete for their house.
This annual clash of the titans saw the whole school turn out as the armies of red, blue green and gold were pitched against one another. Boys wore their respective house tops and girls similar coloured bibs. A tinny tannoy system on the infield announced the events, going from 1st years up to the 4th year.
The most uneven hurdles in history were laid out as long jumpers leapt over sand dune piles, dodging the sorties of flies hanging around like Messerschimtts. But this swapping of class desks for field courses had no ships or wooden horses. Eventually a house group would be declared the winners for that year.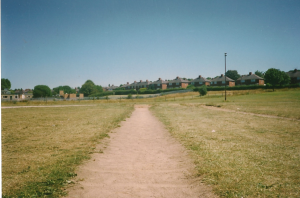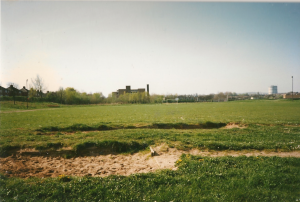 There was also a further large extended area of football/rugby pitches.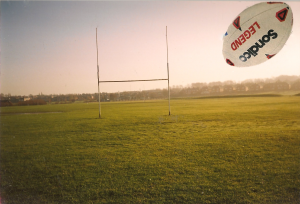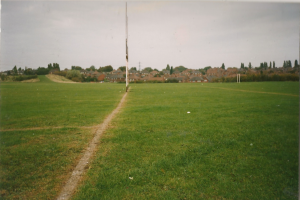 There would also be the dreaded cross country run. This took in the extended fields area, the milky and a downward hill, forever saturated in water that could not be avoided as well as the track, with the finish being the tennis courts. At one point there was also an old zip slide. This was all quite brilliant.
There was also the regular rumour of other schools coming to the school for a fight, sometimes "Wodo's", "Churchies" or even Hill Top when it existed, though none ever seemed to appear.
Tennis courts.
Satellite second cousins of the main school and located off Gordon Avenue, the tennis courts were always uneven and sported weeds growing out of certain areas.
Green chain link fencing surrounded the area, though many stray objects- particularly footballs ended up in gardens in Gordon Avenue- no doubt to the consternation of the locals.
An exit off the fields led through to a gap between The Hill Top annex (M block) and I block.
Menzies had many successful county level athletes and also sports team competing against other local schools.
An early headline made the Daily Mirror in 1975. Check out that hairdo. LOL